YOur first visit
Explore Wales
From the capital, Cardiff to the rugged hills of Snowdonia, experience the very best that Wales has to offer in our 12 day guided exploration of this beautiful country.
History
Learn how life was lived in the distant past and in the cradle of the Industrial Revolution.
Breathtaking Scenery
Take in the wide range of countryside and coastal attractions from South to North and back again.
All inclusive rates from £2,200 per person.
First class travel and expert guides ensure that you get to see the very best of the countryside, but still have lots of time to explore on your own.
Did you know?
Wales has one of the world's smallest (and oldest) cities named St. David's, after our patron saint
About the Tour
The country of Wales has so much scenery and history crammed into a small area. Whether your main interest is in exploring the past or just taking in the views, you will learn so much about this fascinating country on the Western shores of the United Kingdom.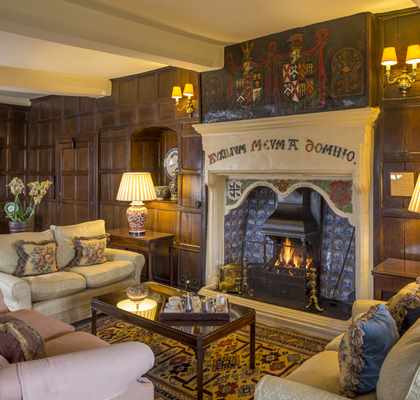 Sleep and eat well in our selection of hotels carefully selected to give you wonderful eating and a prefect night's rest.
You get to sample local Welsh cuisine, which is renowned for the quality of its locally grown produce and seafood.
Day by Day Itinerary
Explore Wales Tour
Day 1 – Fly from your home country to Wales.
Day 2 – Arrive Cardiff Wales Airport where after completing arrival formalities, you will be met by our representative and transferred to your hotel near our capital city of Cardiff. The remainder of the day will be free at leisure for you to recover from your flight and relax & acclimatise. In the afternoon there will be a sightseeing tour of Cardiff, including a visit to Cardiff Castle. Overnight at your hotel. D
Day 3 – After an early breakfast you will board your coach for a journey to Swansea stopping en-route at St Fagans which is the museum of Welsh life and heritage where various buildings from Wales' past have been painstakingly restored. On arrival in Wales' second city of Swansea, you will check in to your hotel. The rest of the day is free at leisure – you can take a stroll on the white sand beach, or, walk into the city centre to the 12th-century castle ruins & Central Market – until dinner is served at your hotel. Overnight at your hotel. B,D
Day 4 – After breakfast, you will board your coach for a scenic ride through the West Wales countryside to the picturesque seaside town of Tenby. On arrival, you will check in to your hotel and meet your guide for your time in Tenby. The remainder of the day is free at leisure for you to enjoy this ancient walled town and harbour. Dinner will be served at your hotel. Overnight at your hotel. B,L,D
Day 5 -After breakfast, there will be a visit to the nearby monastic island of Caldey. The day will be spent on the island before sailing back to Tenby, where after time to relax, dinner will be served at your hotel. Overnight at your hotel. B,D
Day 6 – After an early breakfast you will continue your journey through west Wales and head for the university town of Aberystwyth, visiting en-route the city of St Davids, the smallest city in the UK and one time home to St David, the Welsh patron saint. He founded the first church here. St Davids is considered to be one of the holiest destinations in the world. After arrival in Aberystwyth, you will check in to your hotel where dinner will be served. Overnight at your hotel. B,L,D
Day 7 – Spend the morning in Aberystwyth. Take a ride on the Cliff Railway to take in the views of Cardigan Bay and over the rooftops of the town followed by a guided tour of the National Library of Wales in the afternoon, or, wander on your own and explore the town. B
Day 8 – After Breakfast, drive to the railway station at 10.00 to catch the narrow-gauge Vale of Rheidol steam railway for a day trip to Devils Bridge village, where you will be met to begin a tour of the local area and learn about the legend of the Old Lady and the Devil, which gives this village its name. Overnight at your hotel. B
Day 9 – Drive in the morning through the Elan Valley Reservoirs, sometimes referred to as the Welsh Lake District. From wooded valley sides to high open moorland, this tour will take you past the dams and over a high upland route with views to Snowdonia and the Brecon Beacons mountain ranges. Arrive at the picturesque town of Llandeilo for your overnight stay. B,L
Day 10 -A day trip to visit the Roman Gold mines at Dolaucothi, where you can pan for your own gold and keep any you find. The wedding rings of the British royal family are made exclusively from Welsh gold. Overnight in Llandeilo B,Packed Lunch,D
Day 11 – Spend the morning relaxing before your afternoon drive back to Cardiff to overnight. Farewell dinner at your hotel. B,L,D
Day 12 – After breakfast, there will be an appropriately timed transfer to Cardiff Wales Airport for your return journey to your home country. B
B = Breakfast L = Lunch D = Dinner
Guide Price – GPB £2,200 per person
Based on a group of 6 maximum
For the purpose of these tours it has been assumed that flights to and departure from the UK, will be at Cardiff Wales Airport. Arrivals/departures from other airports will necessitate alterations to the itinerary.
Tour Highlights
Explore Wales Tour
Cardiff Castle
The Castle you see today has been a Roman fort, an impressive Norman castle and an extraordinary Victorian Gothic fantasy palace, created for one of the world's richest men.
St Fagans
St Fagans is the most popular tourist destination in Wales. It is a people's museum, where you can explore Welsh history together through the lives of everyday people as they lived through the ages.
The Gower
The area was made the first Area of Outstanding Natural Beauty in the United Kingdom and has plants otherwise only seen in the Mediterranean and caves with ancient ruins.
Tenby
The picturesque beaches and brightly painted houses of Tenby and its harbour and the quiet of the Caldey monstery which is a short trip across the sea.
St Davids
With a history dating back to the 6th century, the smallest city in the UK is one of the holiest places in Wales and one of the earliest Christian settlements
Funiculars and Steam
Wales is noted for its narrow gauge steam railways and Aberystwyth has its cliff funicular. Enjoy these wonderful Victorian creations for yourself
Wild Scenery
From the dark greys of Snowdonia to the gentler hills of the Elan Valley and the Brecon Beacons, enjoy the beautiful scenery by car and train.
Roman Gold
Pan for gold and keep any you find. Explore mines dating back to Roman times and see the beautiful red gold used by the Royal Family for their wedding rings.
Extend Your Tour
Some ideas on how to extend your holiday…
Amazing eating
Seafood and Lamb
Extend your tour with cooking lessons in Cardiff, or, if you prefer, visit the Black Mountain smokery in Crickhowell and taste beautiful Welsh Whisky with a tour of the Penderyn Distillery.
Pool & Spa
Treat Yourself
With a two day stay at a leading spa and pool where you can relax, be pampered and indulge yourself in lovely surroundings.

Book your dream holiday today
Contact Info
Tel: (+44) 0 1269 823 355
info@walesbeckons.co.uk
Address
Wales Beckons, 4 Gorsto Road, Gwaun Cae Gurwen. AMMANFORD, Carmarthenshire. SA18 1UW, Wales, U.K.